I love October and I am sad that it is 3/4 of the way through... but it has been a great month, so that makes it easier.
I am a little late for this months "As of Late" (which occurs on the third Thursday of the month) but
Christy
lets people link up for an entire week, so I'm taking advantage of the grace period. You still have a few more days to link up, so please do.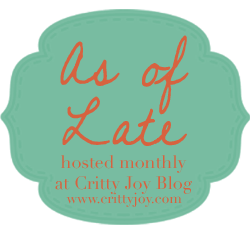 Lately, I have become a mom of two animals (up from one). Chris and I got a black lab puppy last weekend. We are now a family of four.
We've learned that Lloyd will look at the
camera if the photographer barks
Lately, Chris and I are learning how we operate as parents of a puppy and how we work together to take care of our family and handle change in our household. Basically, Chris and Lloyd take change in stride -- Lexie and I require time to adjust.
Lexie has been in high places watching Lloyd
since he arrived
Lately, I am a crazy, chaotic, tired new mother of two. I know two children will be more work -- but I'm having a hard time imagining that. Lexie and I have our relationship and our routine. Now Lloyd is in our house and he needs a relationship and a routine. I am competing with the energy of the puppy and trying to meet the needs of a three-year-old kitty who's world has just changed drastically and I feel like I'm doing neither well. I'm having my closest experience to motherhood yet. One day last week, I was worried that Lloyd needed to get outside ASAP, so I rushed home at lunch to let him out -- so frantic was I to let him out that I left the door open, forgetting that we have a cat who is not allowed to go outside and loves to take advantage of an open door. I am sure this is just the beginning of my frantic momma-moments.
Successfully out of the house -- hopefully
I remembered to close the door behind me
Lately, Chris and I are fascinated by ongoing tumult of the relationship between Lexie and Lloyd. Originally Lexie chased Lloyd... now Lloyd chases Lexie... we really expect Lexie to rule the roost, but its a fun dynamic to observe these days.
Lately, Chris and I have been entertaining at our little Rifle home. We had friends over for dinner a few weeks ago, friends over for lunch this weekend, and our "food club" is meeting at our house this month on Tuesday. Entertaining is fun and I love that it helps us to keep our house cleaner.
My old roommates came to visit for lunch,
some fall fun and to meet Lloyd
Lately, Chris and I are in sports HEAVEN as the Cardinals are in the World Series and College Football is in full swing!
Lately, I've been blogging EVERYDAY and its been a lot of fun. It has also been a nice routine in a world of change. :-D
Lately, I've been convinced that October will be the month I get back in the swing of a regular exercise routine. I had one really good week, and then the week preparing for hunting and the week of hunting were not as good... and now I have one more week of October to get back to it. I need to start doing my exercise in the morning... I just am NOT a natural morning person. I'm currently using Beachbody's Slim in Six. Right now, Beachbody is having a special where you can get Beachbody's Slim in Six (Slim body in Six weeks) AND a first order of Shakeology (an amazing meal supplement) for one great price. Chris and I each drink Shakeology nearly every day. Check it out at my Beachbody website and contact me with your questions.
Lately, I've become a hunter. An unsuccessful hunter, but a hunter nonetheless. Check out my Lessons of a Hunter for reflections from the trip.
Watch out, Elk... oh wait... watch out next year!
Lately, I've been finding comfort in praying for things outside of my control. Most of my praying happens on my work travels, which also helps keep me awake in the car.
Lately, I've been loving my new online creative outlet Pinterest. Everything from cute pictures to great ideas, this is the place to go.
Lately (and always), I love the look of my husband's left hand doing different things... I love seeing his wedding band on his hand in any activity.