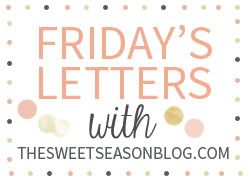 Dear Friday, All week I though it was Thursday... and yet Friday really snuck up on me. How does the brain work that those two statements can be true? It doesn't make any sense.
Dear Exercise, Its been nice to see you a few times this week.
Dear Graduate Professors, In my work, I really try to response to emails within 24 hours... sometimes it doesn't happen and it takes me 48 hours to respond, but I REALLY make an effort to at least send some type of response within a day. I wish you would adopt this philosophy.
Dear Pioneer Woman, I really love your recipes. I wish you published a workout program with all your wonderful, delicious recipes.
Dear Baby Shower This Weekend, You are going to be a lot of fun, the decorations will be beautiful, and the food will be delicious!
Dear Spring Break, You are close enough to see, but way too far to feel yet.
Dear Friends and Relatives Who Are Having Babies, I feel as though your children are going to be born at JUST the right time... I'm had babies on the brain lately, and I think when your babies arrive, my baby brain will skedaddle when I see all the work, cost and responsibility that comes with a baby. Thanks for timing your children so perfectly for me. :-D
Dear Long Distance Friends, We need to catch up
Dear Daily Commute, I'm getting tired of losing reception ever 30 miles. I can never have more than a 30 minute conversation with someone without the call dropping and needed to call them back. Colorado, you need to put more cell phone towers in some of these canyons, please!
Dear St. Patrick's Day, Good to see you again!
Happy St. Patrick's Day Everyone.