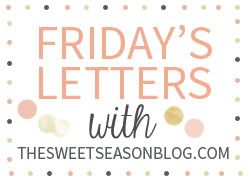 Dear Daylight Savings Time, I really like you every year -- both fall and spring. I enjoy the dark mornings, although I've been trying to treasure the morning mountain sunrises. I like the dark mornings, and I stay awake better when I drive in the dark. I will be glad for morning sunrises in May. March is too soon.
Dear Family, Why do you all come in the span of the same two weeks? How about we spread your visits out next time?
Dear Friday, Welcome Friend.
Dear Snow Storm That's On Its Way, Welcome Friend! Please continue to pummel us with snow until the middle of April. Then, I will be thrilled for Spring to arrive at that time. Early March is too early for Spring... please keep up the snow!
Dear Hubby, I have spent several nights this week working middle school concessions in order to spend time with you -- that's love, Mister!
Dear Grad School, I'm about ready for you to be finished... only seven more weeks to the semester.
Dear Weekend, You are shaping up to be FULL of work!
Dear Exercise, Let's get together again soon.
Dear 2013, You're going to be long, but it looks like you will include Greeley, Nashville, West Michigan, St. Louis, Austin Texas, Florida, and the Caribbean... you will be a lot of work, but you will bring me through some really cool experiences as well.