Taken from
"A Match Made in Heaven: A Collection of Inspirational Love Stories
"
By: Susan Wales & Ann

Platz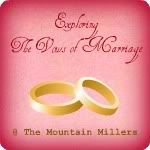 Marriage is a great door, shutting out and shutting in. The old neighborhoods, the old phone numbers, the old whispered promises, the old dalliances of the mind, are behind the door, outside, and must remain there.

Yet it is simple truth that a door that shuts out one part of the house must also grant access to another. Yes, a part of life ends, but another part begins, and there is much that lies ahead. Forsaking the old means walking clean, unfettered, and lighthearted into the new. It means leaving the weathered baggage at the door and stepping openhanded into an endeavor that will require the best of your strength, the best of your character, the best of your wisdom.

And it will require more than that. More than you have to give. More than your best. More than you can squeeze from your should in your finest moments. It will require, in fact, the very presence of the living God within you.