Taken from
"A Match Made in Heaven: A Collection of Inspirational Love Stories
"
By: Susan Wales & Ann

Platz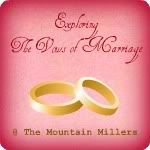 A husband and wife must have each other... and not in a physical sense alone.

When the rest of the world is against him, when his friends turn away, when his bold enterprises and dreams fall into the dust, a man must know that he has his wife. She is there. She is with him. She is for him. She is his.

When a woman's heart is heavy with sorry, when her confidence ebbs, when doubts and fears fill her thoughts, robbing sleep from her eyes, she must know that she has her husband. Her man. Her protector. Her champion. Her lover and friend.

It can be a lonely world, an indifferent, uncaring world, a world with a hard edge. Yet when a man holds a woman, and a woman holds a man, there is warmth, great comfort, and a deep sense of rightness.