Taken from
"A Match Made in Heaven: A Collection of Inspirational Love Stories
"
By: Susan Wales & Ann

Platz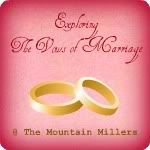 Sometimes it is an instant recognition. "I knew the minute I saw her..."

Sometimes it creeps up quietly, like the gentlest whisper. "We'd known each other for years, but suddenly, one day he seemed different..."

Is it the way she talks, or how he smiles, or some particular talent she has? It may be all of those things or none of them, or a combination of a number of qualities mixed with something mysterious and inexplicably wonderful.

And whether or not that first meeting was memorable, whether the circumstances that brought them together seem mundane or divinely engineered, they will look back and know that, from the moment they met, their lives were changed forever.