Taken from
"A Match Made in Heaven: A Collection of Inspirational Love Stories
"
By: Susan Wales & Ann

Platz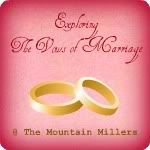 "From this day forward." There is motion here. There is a leaving behind of things past, a severing of old ties, old habits, old loyalties, old haunts. On this day, say bride and groom, we step onto a road neither of us have walked before. There will now be two sets of footprints, side by side. Out in the sunlight, two shadows will be cast, blending into one as day follows day.

From this day forward, life begins anew.