Taken from
"A Match Made in Heaven: A Collection of Inspirational Love Stories
"
By: Susan Wales & Ann

Platz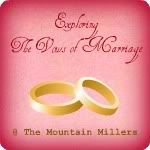 TO LOVE, HONOR, AND CHERISH

There are places in the heart where you don't wear muddy shoes. You enter carefully. You walk quietly. You speak softly. These are the treasure rooms...the places where you keep all that you hold valuable and precious.

Only cherished things belong in such places of the heart. And that is where a man ought to keep his wife and life companion. Right there, in that high and holy place just below (but never higher than) the place reserved for God. And that wife must hold her husband dearer than houses or wealth or career or even children.

We honor that which we cherish.
We protect that which we cherish.
We guard and prize and treasure that which we cherish.
Marriage says, "I cherish you, my love, most of all."