Taken from
"A Match Made in Heaven: A Collection of Inspirational Love Stories
"
By: Susan Wales & Ann

Platz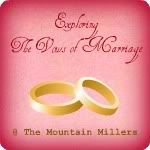 It begins with a square on a calendar. A line in a date book.

A point in time. A month. A week. A day. An hour. A moment.

At an appointed time, in an appointed place, before chosen witnesses, a ceremony begins. It may be in a church, with spectrum light streaming through stained-glass windows. It might be in a sterile office, devoid of trappings, before a sleepy-eyed justice of the peace. It might be in a green field under a wide blue sky, with banners flying in the wind.

From this day, this wedding day, life changes. From this day, something new begins. From this day, two paths merge into one. From this day, the status of a man and woman transforms, until the end of their days.