Taken from
"A Match Made in Heaven: A Collection of Inspirational Love Stories
"
By: Susan Wales & Ann

Platz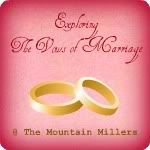 FOR BETTER, FOR WORSE

Marriage is a long journey through a changing landscape. It isn't always scenic. It isn't always pretty. It isn't always fun. It isn't always exciting. Romance may go into hiding. Feeling may lag so many miles behind determination that you wonder if they will ever catch up. But all the while, the road is leading somewhere. Stay on the road, endure the desolate stretches, climb the long hills together, and you will find the vistas beyond what you had imagined.

The road to "for better" sometimes travels through "for worse."

And it is worth the journey.