Where do these months go?
May has been wonderful, and SPEEDY!
As of late, I am preoccupied by wedding details most every waking hour -- and I'm LOVING every minute of it!

As of late, I tear up over the smallest, silliest things!

As of late, I look forward to my daily email from my mom reporting which

RSVPs

have arrived for the wedding. I remind myself of a child excited over Christmas presents.


As of late, my routine is as follows: Exercise, Work, Pack, Pray, Sleep, Repeat.

As of late, I was praying with my roommates, and I literally fell asleep during the prayer -- my turn to pray came, and there was an awkward and LONG silence

As of late, God has provided a sufficient portion of motivation and energy for me to keep working, keep packing, keep exercising, keep planning the wedding and keep rejoicing in the whole experience

As of late, I am more in love with Chris every single day and my anticipation and joy for becoming his wife increases daily!

As of late, I am in prayer more and more about becoming Chris' wife and what that means and petitioning for help with ALL I HAVE TO LEARN -- because I have so much yet to learn

As of late, I'm getting a little apprehensive about living with a man... I am incredibly excited, but realistically nervous. How does a couple go from two separate kitchens to one combined kitchen? Or two separate bedrooms to one combined bedroom? I'm in prayer over this as well

As of late, I made my first ever blog button and began my first Blog World exploration called: Examining the Vows of Marriage based on the book, "A Match Made In Heaven"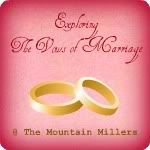 For more As of Late updates, visit here.