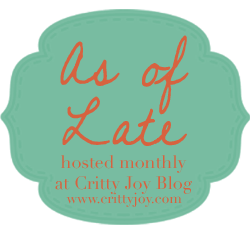 As of Late:
As of late, I AM MARRIED!
As of late, my life has CHANGED! (I just went back to check my last As of Late post, and the changes are INNUMERABLE!)
As of late my name has changed, my title has changed, my address has changed, the box I check on my taxes (single/married) has changed, my URL has changed (please note: themtnmillers.blogspot.com ), even my car and my phone has changed (well, work has given me a car and cell phone... so it's like a half change)!!!
As of late, I am learning what my husband likes in his lunches and I am packing them every morning
As of late, I am learning that a house does not organize itself and that moving in with something is not as easy as I imagined it would be.
As of late, my wonderful hubby and I have lots of conversations like, "You like the alarm clock (or enter the name of any household object) there? Why do you like it there? I would have thought to put it here."
As of late, I find myself in more prayer than ever before as I have SO MUCH TO learn about serving and loving my husband and I don't know how I'm every going to learn it all.
As of late, Chris and I are learning more and more and more about each other and loving every minute of the learning -- even the harder lessons. Things are definitely challenging, but it is a wonderful kind of challenging.
As of late, I am cooking new kinds of dinners and much more often than ever before. Did you know that men eat? Like REALLY eat? I sure didn't! As of late, I am learning that making one casserole on Sunday and eating leftovers for the entire week does not cut it for feeding two people, one of whom is the Husband.
As of late, Chris and I have been exploring our new town (its name is Rifle -- Yee-Haw!) and we've found some great qualities and places. One breakfast place is called "The Cowboy Calf-A" So far, it has been our favorite restaurant in town.
As of late, I am learning how to work from home, as for mileage purposes, my work has told me I can have a home office this year. I am grateful that they gave me this news when I'm still organizing the house, as needing to have a productive home office will certainly play a role in the way we arrange our home.
As of late, our little cat, Lexie, has been LOVING our new home (all these empty boxes and new places to explore). Lexie has also made some new friend with the outdoor cats. Last night, Chris and I got up to check on Lexie twice because of noises and crashes we heard and once Lexie was looking out the window chattering to one outdoor cat, and the second time, she was looking at and talking to two outdoor cats. Lexie is an indoor cat and she's not loving it at the moment.
As of late, I've been doing LAUNDRY and RUNNING THE DISHWASHER like a crazy woman! I refuse to put anything into my clean cupboards, closets and drawers (cleaning and disinfecting the cupboards, closets and drawers was my first task) until it's been washed, so I run LOAD AFTER LOAD AFTER LOAD of dishes and clothes every day. This process feels endless.
As of late, I feel like my list is far too long for anyone to be interested in all of these things, but thank you for bearing with me. I am just SO EXCITED for what is going on right now. Excited and trying to stay motivated to organize the rest of our house. Hopefully next month, my "as of late" will say that the house is organized and we've started entertaining friends!
A big THANK YOU to
Christy
for continuing to host these. It feels great to be back to participate.