Taken from
"A Match Made in Heaven: A Collection of Inspirational Love Stories
"
By: Susan Wales & Ann

Platz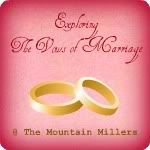 IN SICKNESS AND IN HEALTH

Marriage is a relationship between two eternal souls temporarily housed in fragile, failing bodies. Solomon, who knew a few things about marriage, once wrote:
"Two are better than one, because they have a good return for their work: If one falls down, his friend can help him up. But pity the man who falls and has no one to help him up!" (Ecclesiastes 4:9-10)

Marriage says, "No matter what..."

"No matter what happens to you, I will be there at your side."

"No matter what you must endure, be it pain, or dread, or weakness, or sorrow, or loss, or indignity, I will endure with you. I am one with you."

"No matter what path you must walk, however, long, however, dark, however difficult, you will not walk it alone."