Taken from
"A Match Made in Heaven: A Collection of Inspirational Love Stories
"
By: Susan Wales & Ann

Platz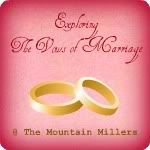 AS LONG AS WE BOTH SHALL LIVE

Love between two children of God outlives the union, outlives failing bodies, outlives the earth itself. Love, in whatever celestial form it takes in heaven, lives on after the earthly shell has passed into dust.
For the one who believes, death changes "Good-Bye" into other, more hopeful words.
I will see you soon, My Love. I cannot bring you back to me, but I can come to you.
And I will.